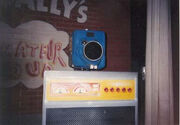 Pizzacam is a prop character formerly installed on stage left at Chuck E. Cheese's 3-Stage locations containing Munch's Make Believe Band. He is located on Stage Left with drummer Pasqually (at some locations). The character has no official name, nor has the character been acknowledged by name by the other characters. The Chuck E. Cheese fan community has dubbed the character "Pizzacam" as an unofficial name. Though, in the 1993 show "Rock it with Charlie", Charlie identifies him as pizzacam.
Pizzacam's return
Edit
After a period of being unused in stage shows, Pizzacam was reintroduced with a brand-new appearance and name, branded as "Pizzacam HD". These Pizzacams are primarily found on new Chuck E. Cheese's Studio C Delta stages. These new Studio C Delta Pizzacams are also functioning video cameras as well as an animatronic prop. The new Pizzacams can be used for filming birthday parties and guests can buy a DVD of the performance from the Pizzacam at the prize counter or gift shop. The fully-functioning Pizzacam HD is only available in conjunction with the Studio C Delta, however an animatronic only version of Pizzacam HD will also be available as an upgrade for the other stages.
The Pizzacam HD and the accompanying Studio C Delta were designed by the Japanese company, Kabushiki Gaisha ABS.
Locations with Pizzacams
Edit
Richmond, Virginia (Fully Operational/Needs Better Cosmetics)
Huntsville, Alabama (Black Plastic)
Madison, Tennessee (Black Plastic)
Wilmington, North Carolina
Elkins, West Virginia (Gray plastic)
Winchester, Ohio (Operational, but not Programmed)
Youngstown, Ohio
Gorson, Tainer
Pizzacam HD (ABS stages)
Edit
Shin-Hakodate, Hokkaido
Laurel, Maryland (replaced the original Pizzacam animatronic)
Shinjuku, Tokyo
Haruna, Gunma
Dale End, Birmingham
Times Square, New York City
Panama City, Florida
Ocean Terminal, Edinburgh
Fort Kinnaird, Edinburgh
Pizzacam HD (non-ABS stages)
Edit
Magna, Utah
Amherst, New York
Roanoke, Virginia (replaced the original Pizzacam animatronic)
Ad blocker interference detected!
Wikia is a free-to-use site that makes money from advertising. We have a modified experience for viewers using ad blockers

Wikia is not accessible if you've made further modifications. Remove the custom ad blocker rule(s) and the page will load as expected.